VISUALIZE YOUR DAY
Visualizing and preparing for your arrival can help ease your stress and anxiety. Here's what to expect on the big day — from your arrival to recovery.
Knowing it's Time to Deliver
Every person and every pregnancy is different so be sure to follow directions from your doctor. Generally, it's time to come to the Moanalua Medical Center if any of these situations occur:
Your water bag breaks. If this happens, be sure to note the time and the color of the fluid.
You have any vaginal bleeding.
You have regular contractions every five minutes for two consecutive hours.
You do not feel the baby move for a while or if the baby seems to be moving less than normal.
NOT SURE? CALL THE FAMILY BIRTH CENTER AT 808-432-8550 BEFORE YOU LEAVE HOME.
Arrival and Check-In
When it's time to deliver, you'll come to the Moanalua Medical Center. Here are step-by-step instructions for your arrival.
Arrive & drop off
Drive into the front circle of the Moanalua Medical Center located at 3288 Moanalua Road in Honolulu.
Pull into one of the front spaces in the circle closest to the front door.
You can also ask security or other staff for assistance.
If you can see the baby's head, or if you are experiencing a life-threatening medical condition, proceed directly to the emergency entrance.
Park
Park in the parking garage (or take advantage of the valet parking service).
Enter the main lobby and take the elevators to the 6th floor.
Family birth Center and check-in
Follow the signs to the Family Birth Center.
You will walk past the Neonatal Intensive Care Unit (NICU) and visitor lounges.
Check in at the nurses' station by presenting your Kaiser Permanente ID card and picture identification. Your nurse will check you in, weigh you, and help you settle into your labor and delivery suite.
LABOR AND DELIVERY
At the Kaiser Permanente Family Birth Center, every family has their own private labor and delivery suite that includes all the comforts of home (and then some). Explore one of our labor and delivery suites and discover all that we have in store for you and your family.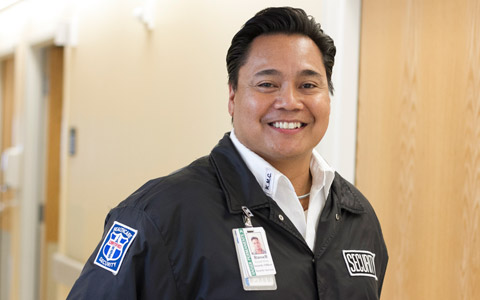 Security
At the Family Birth Center, your family's health and safety are our top priority. Security starts with keeping you and your baby together whenever possible. The Family Birth Center is protected by a dedicated team of security professionals and a security system that uses sensors, special doors, security entry badges, and video monitors.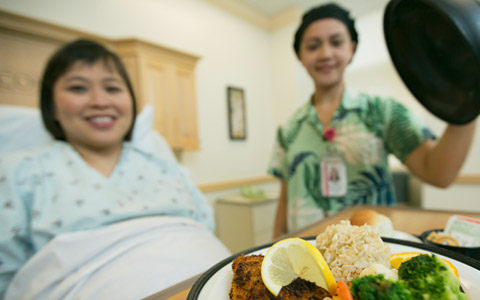 Room Service
Freshly cooked, nutritious fare is made to order and delivered to your room within 45 minutes. You can order from our full menu from 7 a.m. to 6:30 p.m. daily and we will deliver it when you are ready.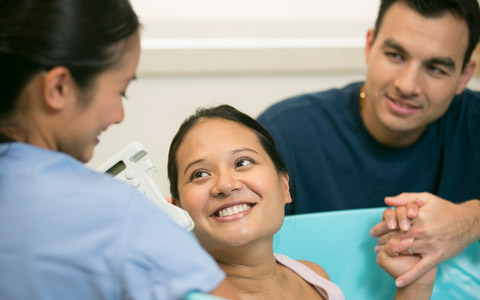 Labor Aids
Hydrotherapy Tubs
Many moms find hydrotherapy tubs as a great way to relieve tension and lessen labor pains. To be in the labor and delivery suite equipped with a hydrotherapy tub, let the Family Birth Center staff know that you would like a hydrotherapy tub in your room when you call before arriving or when you check in. Although we can't guarantee that one will be available, our staff will make every effort to get one for you.
The Family Birth Center staff will take care of the tub setup — but please know it can take up to an hour for the tub to fill and heat up to a relaxing 98.6 degrees.
Hydrotherapy Guidelines
You can wear a swimsuit or nothing in the tub, but partners must wear swimsuits if they enter the tub.
Children are never allowed in the tub.
You can labor in the tub, but not deliver.
Always have another person in the room while you are in the hydrotherapy tub.
Labor Balls
Labor balls, or "birthing balls," are large rubber balls that you can sit, squat, or lean on to ease the discomfort of labor. Labor balls and other comfort items like rocking chairs are available in your labor suite at the Family Birth Center. Simply let your Family Birth Center nurse know at check-in if you would like these in your suite.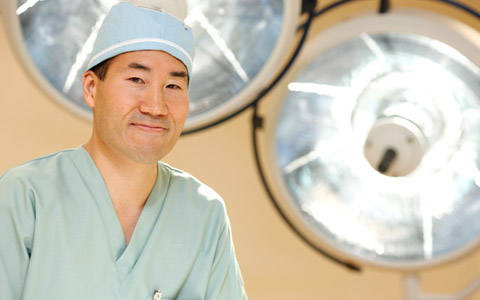 Operating Rooms (O.R.)
The Family Birth Center has two operating rooms equipped to handle Cesarean deliveries and high-risk births.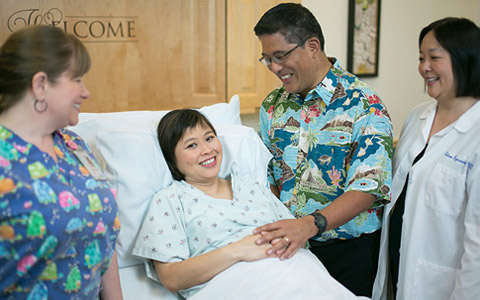 High-Risk Care
Although it might sound a little scary, "high-risk" generally refers to situations in which you and your baby need special care. At the Family Birth Center, our specialists are just steps away, on-staff and available 24 hours a day, 7 days a week to care for you and your baby in these special situations.
Moanalua Medical Center has all essential services needed to provide top-quality care for mom and baby, from low-risk deliveries to situations requiring intensive care. Because we have everything you need in one place, should you or your baby require extra care, you won't have to worry about being separated in different hospitals.
Neonatal Intensive Care Unit (NICU)
Should your baby need special care, our neonatologists are just steps away in our newly renovated and fully equipped Neonatal Intensive Care Unit (NICU). All of our NICU suites are private so families can stay with their babies 24 hours a day.
RECOVERING AND BONDING
About an hour after your baby is born, you'll move into a Mother/Baby suite where you'll recover and learn how to care for yourself and your baby.
About our Mother/Baby Suites
Mother/Baby care means your baby stays in the same room with you while you are at the Family Birth Center.
Having your baby stay with you offers several benefits:
Promotes attachment and bonding
Makes breastfeeding more convenient
Lets family members be involved in the early care of your baby
Lessens the risk of newborn infection from other patients
Gives you the opportunity to learn about your baby. Even if you have other children, every child is unique and this is your special time together to learn about each other.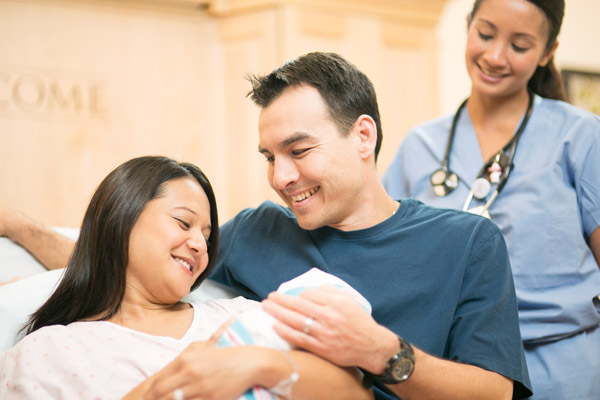 A neonatologist is a pediatric medical doctor who specializes in the care of high-risk newborns.